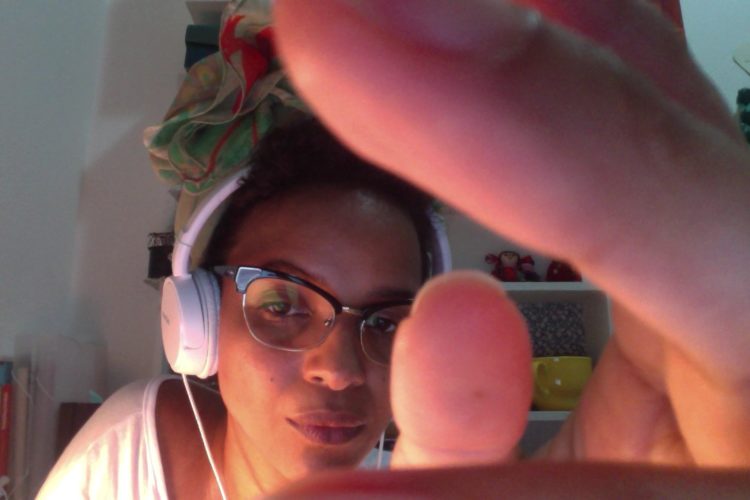 Millena Lízia is a person living this world in search of a walk with dignities and health. She seeks the simplicity, because the most trivial things come to her with layers of challenges and complexities. Among her institutionalized backgrounds are the postgraduate degree in Contemporary Arts' Studies (2018) from the Universidade Federal Fluminense, the Film and Video Editing course (2012) from the Escola de Cinema Darcy Ribeiro and the Graphic Design degree from the Instituto Federal Fluminense (2009). She has been collaborating since 2011 with various meetings, productions, talks, collective exhibitions and educational propositions. She is a researcher and contemporary-ancestor artist-after-the-2000-year, which has been organized since the diasporic agitations of pictorial-epidermic lived experiences – just another possible way of presentation, which wants to point out that her field of action is in existence, in relationships, displacements, confrontations and escapes since the the imaginary production.
Coups, rising extreme poverty, labor reform, military intervention, dismantling of public education and affirmative action programs, increasing black murder while there is a decrease in white homicide rates, execution of university students across racial and gender differences outside and inside university campus, all sorts of symbolic obliterations and waste of life. Faced with such circumstances, of so many vulnerabilities, surely are not questions such as what is art?, what is the art object?, what is contemporary art? or how to make art? that have been taking the energies of an entire population that in recent decades has seen itself in social mobilities and occupying spaces of power that previously were deprived for them, but, instead, how to produce life?, because in this times in which we are living is the struggle for our existence and the understanding of our fragilities that mark our urgencies. What kind of designs have these risky conditions been produced? And what are the escape lines?
Millena Lízia's proposal at Capacete is interested in promoting regular meetings with artists and researchers in the field of visual arts (and related areas) whose existences are crossed by colonialities in order to strengthen networks, to think about strategies of maintenance and resistance in historically elitist spaces, to back our attention to our health, to exchange research, to strengthen ties, to interchange our productions, to think about the dialogues that our productions make between them and to answer, perhaps, with aesthetic propositions these meetings, knowing that it is the struggle for life, in all its power, our main focus.