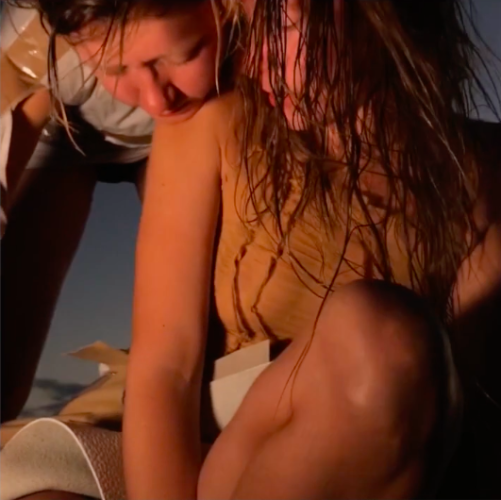 Dorota Gawęda and Eglė Kulbokaitė in YOUNG GIRL READING GROUP 146 featured in Gruppe Magazine. Photo: FRITZ SCHIFFERS
Dorota Gawęda (b. 1986, Lublin, PL) and Eglė Kulbokaitė (b. 1987, Kaunas, LT) are an artist duo founded in 2013, based in Basel (CH). Both are graduates of the Royal College of Art, London (2012). They work in a variety of media spanning performance, installation, video, sculpture and scent. They are the founders of YOUNG GIRL READING GROUP – YGRG (2013- ), a project that looks for a horizontal way of approaching text and sharing of knowledge, providing an intimate discursive space within the experience of collective reading. The duo are also the founders of Agatha Valkyrie Ice (2014- 2017) post-body avatar, under whose name they co-curated OSLO1O project space in Basel (2015-2017). Gawęda and Kulbokaitė have exhibited their work internationally including: FUTURA, Prague (solo); Schimmel Projects, Dresden (solo); Lafayette Anticipations, Paris; HKW, Berlin; Spazio Maiocchi, Milan; Lucas Hirsch Gallery, Düsseldorf (solo); Les Urbaines, Lausanne; ANTI – 6th Athens Biennale; Switzerland; Art in General, New York; Martin Gropius Bau, Berlin; Musée d'Orsay, Paris; Cell Project Space, London (solo); MMOMA, Moscow; Palais de Tokyo, Paris; Amanda Wilkinson Gallery, London (solo); 13th Baltic Triennial, Contemporary Art Centre, Vilnius; Kunsthalle Basel; ICA, London; SMK – National Museum of Denmark, Copenhagen; Kunstverein für die Rheinlande und Westfalen, Düsseldorf (solo); MOMA, Warsaw; SALTS, Basel; Berlin Biennale 9; Kunsthalle Zürich; among others. Upcoming solo exhibitions of the duo include: Julia Stoschek Collection, Düsseldorf, On Curating, Zürich and FriArt/Kunsthalle Fribourg, Trafo Gallery, Budapest.
Currently, Gawęda Kulbokaitė are focused on their ongoing serial project YOUNG GIRL READING GROUP that seeks for the act of reading as an intimate experience, holding the potentiality to become public performance through the "outlouding" of words otherwise underemphaissed. This accumulative project investigates the embodiment of language, positing the interdependence of the text, the reading body, the environment and technology, where the readers and their surroundings are rendered as the site of active and ongoing set of relations. Thinking through an instability of boundaries, formal incompleteness, porosity and the idea of fragmentariness rather than holism is important to the duo's approach to both reading and their material practice.  Gawęda and Kulbokaitė intend to continue their research into scent, a media that lends itself to creating speculative environments.
**** This residency is possible thanks to Pro-Helvetia (https://coincidencia.net/pt/)