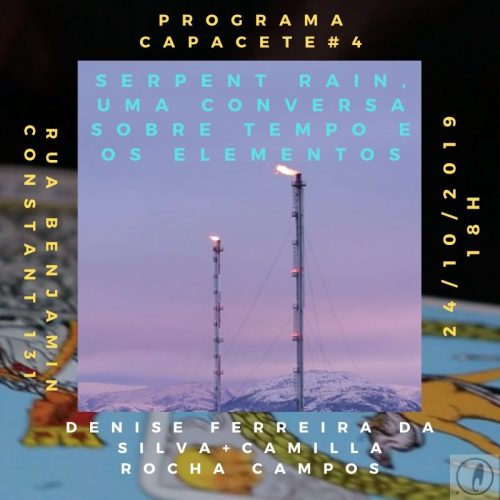 Nesta conversa, Denise Ferreira da Silva e Camilla Rocha Campos discutem temas levantados no filme Serpente Rain (Arjuna Neuman e Denise Ferreira da Silva, 2016). Embora esses temas visem expandir várias proposições apresentadas no filme, Denise e Camilla vão tentar expandir a elaboração do questionamento da temporalidade e as aberturas éticas e estéticas sugeridas pelas elementaridades, ou seja, uma imagem do mundo na qual a transformação seja contemplada como um movimento infinito de re/de/composição.
Denise Ferreira da Silva – Os escritos acadêmicos e a prática artística da Dra. Denise Ferreira da Silva abordam as questões éticas do presente global e visam as dimensões metafísicas e onto-epistemológicas do pensamento moderno. É professora e diretora do Instituto de Justiça Social (GRSJ) da Universidade de British Columbia, professora adjunta de Belas Artes da Universidade Monash (Melbourne, Austrália) e professora visitante de direito na Universidade Birkbeck de Londres. É autora de Toward a Global Idea of Race e co-editora de Race, Empire and The Crisis of the Subprime (com Paula Chakravartty). Seu trabalho relacionado à arte inclui textos para publicações vinculadas às Bienais de Liverpool e São Paulo 2016, Veneza 2017 e Documenta 14, além de colaborações como a peça O Retorno do Camponês Desaparecido, com Ros Martin, os filmes Serpent Rain (2016) e 4Waters-Deep Implicancy (2018), com Arjuna Neuman; e eventos (apresentações, palestras e sessões privadas) e textos relacionados à Poethical Readings e ao Sensing Salon, com Valentina Desideri.
Camilla Rocha Campos –  Artista, professora, pesquisadora, escritora e auto-revolucionária. Sua prática artística é colaborativa, construída através da contribuição de pessoas em contextos carregados de emoção e crítica. Nesse campo relacional Camilla propõe experiências de arte e não-arte. Participa de seminários, falas e projetos no Brasil e em outros países, construindo e compartilhando processos estéticos/artísticos a partir de lógicas não-hegemônicas. Em 2016, foi artista residente no Programa Internacional CAPACETE, no Rio de Janeiro, onde desde 2017 atua como diretora. Possui mestrado em Teoria e Crítica de Arte pelo Instituto de Artes da UERJ. Atualmente é professora no Programa de Formação do Parque Lage e da Escola Livre de Artes da Maré.