IMMERSIVE COURSE / clinic*art
MAY 20th – 30th, 2016. Rio de Janeiro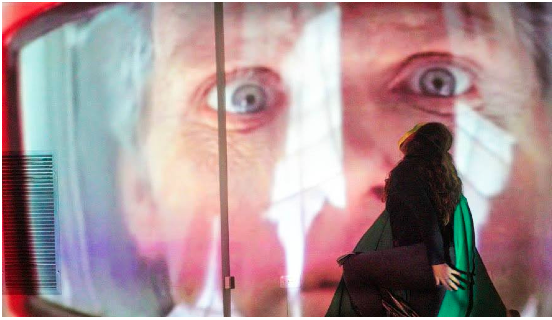 TAGS: Futurology, cybernetics, tecno-primitivism, sci-fi, tecno-shamanism, anthropocene, ritual practices, onto-ficcion, interwriting, noise, pancinema, anarcheology, onirism, self-ficctionalisation, performance, experimental self-study, subjetivity, fantastical narrative.
TEAM: Peter Pál Pelbárt, Fabiane M. Borges, Leandro Nerefuh, Rafael Frazão, Marcelo Marssares, Paola Barreto, Giseli Vasconcelos, Rafael Frazão
PRESENTATION
We shall start from the toxic mud: echo of the neo-developmentalist violence in Brazil and worldwide, killing life and grabbing land for the sake of… The mononatural private-public enterprises and the contamination of all waters. In the strategic scenario thinking of governments, riot police gets ready to deal with peoples who claim access to sources – open source. We are in the mud and the mud is not a metaphor. In this context of 'end of the world' due to the destructive human activity on earth systems – resulting even in a new geological period: the anthropocene; the capitaloceno; the metabolic rift, etc. – this course/clinic will try to divert from our collision course and point to some future alternatives or futurologies that carry a technological turn of difference. By techno appropriation and invention of all orders: ultra, low-tech, hidden, primitive, occult, mainstream technologies that can provide possibilities to envision other kinds of relationships between humans, non-humans and the earth (interespecifics).
The course serves as a clinical treatment, based on ritualistic, theoretical and practical ecounters with the forces of telluric insurgency (the insurgent human body in and with the earth). How to create therapeutic treatments to remedy the toxic mud, the carbon imaginary, the floods and droughts of climate and thought? We think of the engineering of the future: a geo-engineering and engineering of the body. We think in what's to come, relative to the current civilizational failure. We think of the urgency of metarecycling in the fields of fiction, and in the production of free cosmogonies.
COURSE (clinic)
Based on the current scientific and theoretical speculative discussions about the era of anthropocene and the 'end of the world', and in contrast to alternative futurologies, we plan to create an immersive dynamic conducted based on different techniques of performance, noise, listening, construction of fictional narratives, and clinical proposals (subjectivity).
Dreams, indigenous cosmogonies (amerindians and aboriginal), listening spectra (electronics diy), production / listening noises, ritual immersion, self-experimentation, gestualization, fictionalization, performing and storytelling, will be the basic elements of the course. With the aim to create a ten-day working process which will then be presented to an audience in Rio de Janeiro.
The course will be led by researchers of subjectivity, performance, film, electronics and music, which will be promoting a radical experimentation process, based on the pressing issues that populate the social imaginary in regards to the anthropocene.
STRUCTURE
MAY 20th – 30th, 2016
16h as 22h daily
The course has a theoretical, practical and technical basis and includes the construction of an experimental work process, which will take place on two main locations: a natural land in Lidice – RJ, and in Capacete, Rio de Janeiro, where participants will have 5 hours a day of immersive practices, making use of :
Performing Languages: use of body techniques, improvisation scene , building individual and collective actions from auto-biographical studies , building expressive languages , ritualization , gestualization , states of presence, among others.
Ruidocracia: use of techniques of sound language , noise production ( digital and analog) , vocalization, narrative improvisation , building collective states of listening . Understanding the noise and disruption of communication beyond intelligibility: emission – redundancy – reception. The idea here is to build languages ​​which exist between humans and other species .
Fictional narratives: fictionalization, development of collective writing transnarrative characters, character development, environments, contexts. Interescritures, cosmogonical production, mythical, metaphysical, several ontologies, treaties, free association writing.
Live-Cinema: improvised narrative, composition of visual landscapes, noise and light textures, nuclear assembly, ideogrammic assembly, free association sign images. Different imagery ontologies in collision – File / live / image media / picture exception / error image. Free exercise of audiovisual grammar, cinemusic of light.
Spectrology: creation of simple electronic devices (associated with coil, battery, audio output, cables, etc.) to listen to magnetic fields. From the construction of the device (each develop their own apparatus), we will propose a series of drifts that enable spectral listening noise of the most diverse elements, from lights, appliances until antennae, plants, trees, water, etc.
Clinic: esquizodrama, group dynamics, listening skills, free association, questioning the issues raised by the group, self-knowledge, the intellect and the collective unconscious, story-dreams, concentration techniques, imaginary production, fable, deepening expressive languages, compared with the future, etc.
Communitas: collective living, network construction, conversation circles, practical tasks, intensive communication, sharing of everyday processes, problem solving, food, collaborative management, etc. (This part will be developed during our stay in Rio de Janeiro)
MOVING ON
As a way of completing the work developed over the 10 days of clinic practice, the course includes a public presentation of the working process in a format to be decided: a multimedia presentation, a revue , a live cinema session, a show of performances, choreography, agitprop experiment, a sci-fi novel, a variety show…. Everything will depend on the formation of the group.
PROGRAM (possible changes may occur)
DAY 1 – Innaugural talk with Peter Pál Pelbárt
DAY 2 – Presentation of the strucutre of the course, and individual presentations of the participants in pecha kucha format (5 minutes each)
DAY 3 – Experiments in performative languages, self-knowledge, inter-writing, gestural and narrative improv, fictionalization of personal stories
DAY 4 – Experiments in ficcional narratives, noisecracy and sound production
DAY 5, 6 and 7 – Trip to Lídice (interior of Rio de Janeiro) in a ritual immersion with walks, waterfalls, fire, and live cinema
DAY 8 – Workshop for building electronic devices for listening to spectres
DAY 9 – Summing up and preparation for the presentation of process/results
DAY 10 – Conclusive presentation in a format to be determined by the group
Daily Methodologies: practice of scriptwriting; study of text and hypertext (text, sound, image); annotation and telling of dreams; roundtable; individual and colective clinic.
PUBLIC
The course is offered to people over 15 years old, from anywhere in Brazil, Latin America and the world. Transportation is the responsibility of each person. Minimum 10 and maximum 30 people.
APPLICATION
 Letter of interest (max. two pages) telling your experience and interest in the course. CV.
Name, document, address, contact details. TO: imersaocapacete@gmail.com
 Presencial or virtual (via skype) interview
 Course fee R$ 500,00 (BR real)
GRANTS
We offer two grants for persons who are interested but do not have the means to pay the course fee. The grant covers the course fee only.
PRACTICAL MATTERS
ACCOMMODATION IN RIO
Individual bedrooms available in Capacete – R$500 (BR real) for 10 days
Shared bedrooms (for two people) in Capacete – R$600 (BR real) for ten days
*not included in the course fee
USE OF ESCOLA CAPACETE
Irrestricted access to Escola Capacete – library, wifi, kitchen, bathrooms, space for encounters, basic audio/visual equipment. Alos includes coffee, tea, water and banana.
TRIP TO LIDICE
Transport (Rio – Lídice – Rio) and accommodation included.
Acommodation in tent or hammock – It's necessary to take a sleeping back and/or blankets (it gets cold in May), and towels.
Lidice is located in the mountains of Angra dos Reis, two hours away from Rio de Janeiro. * In case of rain, the trip will not happen because the access is restricted.
HOW TO ENROLL
Letter of interest of no more than two pages talking about you experience and interest in the course. Curriculum vitae . Personal contact details.
Send to the following email : imersaocapacete@gmail.com
Interview in person or virtual (via skype )
Pay course fee R$ 500,00
PUBLIC
The course is offered to persons over 15 years old, from anywhere in Brazil , Latin America and the world. Minimum 15 and maximum 30 people
MINI-BIOS
Fabiane M. Borges is an artist, psychologist and essayist. PhD in Clinical Psychology (Subjectivity Center PUC / SP – with residency in Visual Arts at Goldsmiths University of London). Research on art and technology, subjectivity, shamanism and immersive processes. Works with groups, collectives and networks since 2000 developing a series of actions as ACMSTC (Contemporary Art in no center ceiling Movement (Occupation Prestes Maia – São Paulo / 2003), Seamless integration Posse (Occupation Prestes Maia – São Paulo / 2004 -2007), Festivals of Submidialogy (Brazil / 2006-2010), Tecnoxamanismo festivals (Brazil-Ecuador-Denmark / 2014 -…) Between exhibitions include:. Transmedialle (Berlin / 2014 to 2016), Art in orbit (curator at the CAC – Ecuador / 2015), Poetic SEA Dissent (Rio de Janeiro / 2013) and Arid Poetry Zone (Rio de Janeiro / 2015), Malm (Goethe Institute – Porto Alegre 2015)., etc. Works with . individual and group clinical makes and virtual therapeutic care – https://about.me/FabianeMBorges
Giseli Vasconcelos has handled programs with collectives, activists, thinkers and organizations in Brazil, for the past ten years. She organized the "Festival Midia Tatica Brasil" ("Tactical Media Lab Festival"), as a node from The Next Five Minutes Festival – N5M4 (Amsterdam) – that spread the concept of tactical media in Brazilian electronic art and activism. She co-organized the publication Net_cultura 1.0: DIGITOFAGIA, a collection of essays inspired on discussion lists of the DIGITOFAGIA Festival that brought together the context of Brazilian digital electronic culture in its first decade; and was also responsible for the conception and management of Autolabs – prototype labs providing media literacy workshops in radio, video, hardware, graphic design, and event production, based on tactical concepts using cheap DIY media. Since 2011, she is a project leader of the collaborative documentation "Dossier: clip/process in art, politics and accessible technologies" that brings together a geopolitical and creative context in the Amazon. She lives between the US and Brazil experiencing a geographical journey of systems for sustainable living and geopolitical creative actions. http://comumlab.org
Leandro Nerefuh is constructivist artist who works with the formal translation of speculative theories and historical narratives, with special interest in Latin America. He was a professor of art history at Zumbi dos Palmares University, São Paulo (2011-2012), and is currently a collaborator of Escola Capacete, Rio de Janeiro. Nerefuh is also the founder of PPUB , active political party in Brazil , Paraguay and Uruguay . Recent exhibitions include: Banana Archive, 12 Havana Biennial, Cuba; Umbelina cave, Solo Shows, São Paulo; Abyssal agitprop, Zacheta National Gallery, Warsaw ; Calil Trouvé, 33 Brazilian Art Panorama MAM, São Paulo; Mobile Radio BSP, 30th São Paulo Biennial; Disruptive Memories, Reina Sofia Museum, Madrid; Talk Show, ICA, London. http://www.nerefuh.com.br
Marcelo Marssares is an artist who works with sound and image in their physical contact relationships – the sound as an activator of an altered vision, the sound field as an immersive possibility, music seen as vibratory surge of violent expansion. The context and environment are factors that contribute to the creation of his performing, environmental and participatory proposals. In Uguanda Compressive Files, he lived for nine days in the gallery's exhibition space providing instruments for those who were willing to create a chaotic gathering of music – not – music and collective improvisation.
Paola Barreto is an audiovisual artist and researcher. Degree in Cinema ( UFF ) and Master in Technology and Aesthetics ( PPGCOM / UFRJ ) , is currently dedicated to an Interdisciplinary PhD in Poetics ( PPGAV / UFRJ ) . Her work unfolds between electronic and digital video circuits, phantasmagoria and hybrid systems, and develops theoretical and practical research on live cinema and vitality of the image. Participated in exhibitions at SESC circuit in several Brazilian cities, as well as international festivals like Vorspiel / Transmediale in Berlin, Live Performers Meeting in Rome and Live Cinema in Rio de Janeiro.
Peter Pál Pelbart is a philosophy professor and coordinator of the philosophy department at PUC- SP. He writes mostly about crazyness, time, subjectivity and biopolitics. Among his publications are: The non-reconciled Time , Life Capital, and more recently, The Other Side of nihilism : a cartography of exhaustion. He translated several works of Gilles Deleuze into Brazilian Portuguese, and is a member of the Theatrical Company Ueinzz.
Rafael Frazão is a visual artist and develops work in film, internet content and new media. Frazão has experience in creating and producing short and feature films, video, projection mapping, vjing , streaming, generally applied installations, theater, dance and events. He participated in the creation of the collective House of Digital Culture, the festival Low center and a number of actions related to critical appropriation of technology and free culture. Currently, he researches neuroscientific approaches to the scenic performance with the work Discontinuous Object, and develops the feature sci-fi film São Pan.
BIBLIOGRAPHY:
"A Arte do Sonhar", Carlos Castañeda
"A Queda do Céu – Palavras de um Xamã Yanomami" –  Davi Kopenawa e Bruce Albert
"Antes o Mundo não existia" Mitologia dos antigos Desana-Kehíripõrã" – Umusi Pãrõkumu (Firmiano Arantes Lana) e Tõrãmú Kehíri (Luiz Gomes Lana). Ed. ed. — São João Batista do Rio Tiquié : UNIRT ; São Gabriel da Cachoeira : FOIRN, 1995. (Coleção Narradores Indígenas do Rio Negro).
"Devires Totêmicos – Cosmopolíticas dos Sonhos" – Barbara Glowczewski
"Comunidade dos Espectros – I. Antropotecnia" –  Fabián Ludueña Romandini
"Três Ecologias" – Félix Guattari – Ed. Papiros – 1990
"Caosmose –  Um Novo Paradigma Estético" – Félix Guattari – Ed. 34 – 1992
"Metafísicas Canibais" – Eduardo Viveiros de Castro – Ed. Cosac Naify – 2015
"Há Mundo Por Vir?: Ensaio Sobre os Medos e os Fins" – Debora Danowski e Eduardo Viveiros de Castro – Ed. Instituto Sócio-Ambiental  – 2015
"Linguagem e vida" – Antonin Artaud – Ed. Perspectiva – 2005
"O Teatro e Seu Duplo" – Antonin Artaud –  Ed. Martins Fontes. 1999
"Performance como Linguagem" – Renato Cohen – Ed. Perspectiva, 1989
"Work in Progress na Cena Contemporânea" – Renato Cohen – Ed. Perspectiva, 2004
"Arte da Performance: Do Futurismo ao Presente" – Ed. Martins Fonte – 2012
"Em Busca de um Teatro Pobre" – Jerzy Grotowski – Ed. Civilização Brasileira – 1987
"Testo Yonqui – Sexo, Drogas e Biopolítica" – Beatriz Preciado – Ed. Espasa – 2008
"Jamais Fomos Modernos" – Bruno Latour
Tudo e qualquer texto de Waly Salomão
"Aspiro ao Labirinto" – Helio Oiticica
"Cyclonopedia" – Reza Negarestani
"O Contrato Natural" – Michel Serres