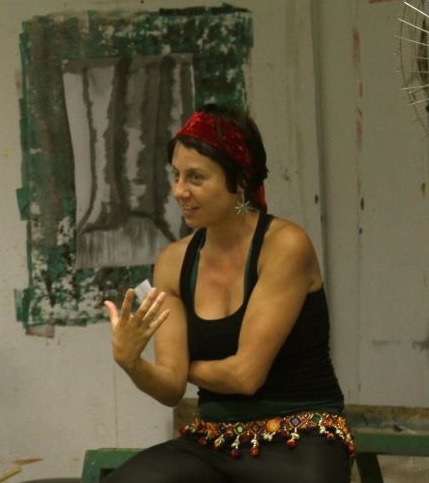 Wednesday the 22th of april at 19:30
Ruidocracia and Tecnoxamanismo (Ancestrofuturismo)
A conversation about ancient and contemporary technologies from the ruidocracia ( intensified attack listen in a world in which all issues ) . Cannibalism ritual practices to expand the fields of perception , sensation and transhumanas relationship.
Neo materialism and perspectivism, inconscientização policies : Network shares - creating immersive processes for care of themselves and the Earth.
Waste earth, friendly places for the production of dirtyshamanism (Estamira as garbage prophet - this mirada / Mirage).
The waste ground and orbital as a paradigm for thinking the technical models. vampires Corrogênese , the desire of immortality eroding human genesis.
The future and the civilizational failure. The urgency of metareciclagem the field of fiction.
Fabiane M. Borges é artista, psicóloga e ensaísta. Fez doutorado na Puc/SP cuja tese dedicou a Cultura Espacial – Utopias humanas intra e extra-terrenas. É autora de dois livros: Domínios do Demasiado (Hucitec 2010) e Breviário de Pornografia Esquizotrans (Ex. Libris 2010). Organizou dois livros com a rede de arte, mídia e software livre Submidialogia) Ideias Perigozas (Descentro 2011) e Peixe Morto (Imotirô 2011). Participa e colabora em redes como Metareciclagem, Tecnoxamanismo, Tecnomagias, Bricolabs, MSST (Movimento Sem Satélites).
Indicações para leitura:
– Bruno Latour – War and peace in an age of ecological conflicts Paris – Lecture prepared for the Peter Wall Institute Vancouver – 2013
– Davi Kopenawa and Bruce Albert – The Falling Sky – Ed. Harvard University Press. USA/2013
– Eduardo Viveiros de Castro. Metafisica Canibales – Líneas de Antropología Postestructural. Ed.Kats. Espanha. 2010
– Fabian Ludueña Romandini. Comunidade dos Espectros; I Antropotecnia. Ed. Cultura e Barbárie. Florianópolis SC/2012-2013
– Jeremy Narby. "The Cosmic Serpent: DNA and the Origins of Knowledge". Ed. Georg. França/1998
– Laymert Garcia dos Santos – "Amazônia transcultural – xamanismo e tecnociência na ópera". Ed. N-1, SP/2013
– Luis Lana – Antes o Mundo não Existia: A mitologia Heróica dos índios Desâna Ed. Livraria Cultura, SP/1980
LINKS:
FILMES
Terra Vermelha – Dir. Marco Bechis – Itália-Brasil – 2008
Xapiri – Filme experimental (Documentário) sobre o xamanismo Yanomami – Diretores: Leandro Lima, Gisela Motta, Laymert Garcia dos Santos, Stella Senra, Bruce Albert.