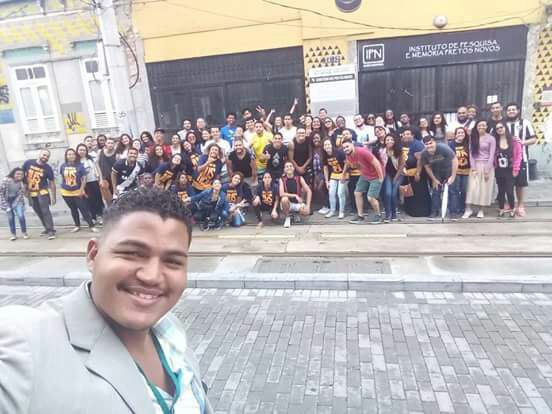 * photo: Rolé dos Favelados, guide visit at zona portuária
The next conversation of 'Maneiros de trabalho' will take place with invited guests Cosme Felippsen O Favelado and Thelma Vilas Boas, on Wednesday 4 July at 19h at Capacete.
Cosme Felippsen O Favelado was born and raised in the first favela, Morro da Providência, and is the creator of Rolé dos Favelados.
Thelma Vilas Boas is an artist and initiator of the project Lanchonete<>Lanchonete, a cultural and communal occupation at Bar Delas in Gamboa.
Together with Tanja Baudoin they will discuss their way of working in relation to each of their practice of creating critical experiences that question the city's developments and ways of living and working in the territory of the port zone in Rio.
Maneiras de trabalho is a series of dialogues between artists from different generations, that deals with the question of how artists shape their artistic methodologies in relation to their surroundings and the historical moment they are living. In each session two artists are paired to talk about their practice on the practical level of organizing time, the space they work in, the money they need for their art production, and their relation to collaborators and art institutions in the city.