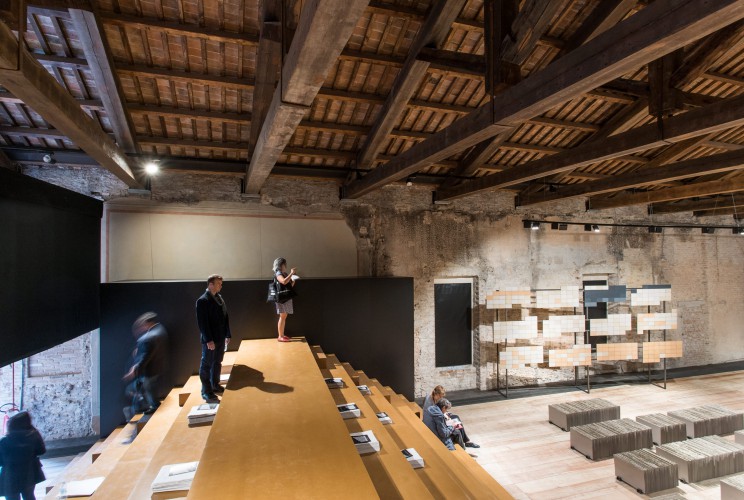 11 May 2016, 19h
Gilda Mantilla and Raimond Chaves
Gilda Mantilla and Raimond Chaves, will be talking about their participation at the recent Venice Biennale 2015, in which was inaugurated the Peruvian Pavilion with their installation Misplaced Ruins. It address issues related to the representation of the national, while facing the problems derived from the translation of cultural contexts. They will also talk about the vicissitudes of the process that involves the insertion of the country in the dynamics inherent in major international exhibitions at a time when market forces coexist with the decline or the mere absence of cultural policies.
Mantilla and Chaves live in Peru and work together since 2001.
GILDA MANTILLA (1967, Los Angeles, USA)
RAIMOND CHAVES (1963, Bogota, Colombia)
Live and work in Lima, Peru.
Mantilla and Chaves' work is based on questioning the nature of the images and their chances of being reprocessed and re-contextualized, and intersects with questions of political, social and cultural nature fostered by the Latin American context, as shown in projects as Dibujando America (2005 – 2009) or  An Uncomfortable Eagerness (2010 – 2012). They have also developed other proposals as Hangueando-Periodico con patas (2002 – 2004), Mobile Workshops (2004), or Cabinet of Curiosity (2006 – 2015) among others, willing to stake the capacity for understanding and agreement on the construction of the artistic field and the collective exercise of sharing experiences that enhance public arena.
From 2003 to 2008 Mantilla and Chaves were members of the artist run space Espacio La Culpable, and co-founders of the artists collective Comité 1º de Mayo, 2013 to 2015, both in Lima, Peru.
In 2015 Mantilla and Chaves represented Peru at the 56th Venice Biennale, where for the first time the country had its own pavilion, with the installation Misplaced Ruins.