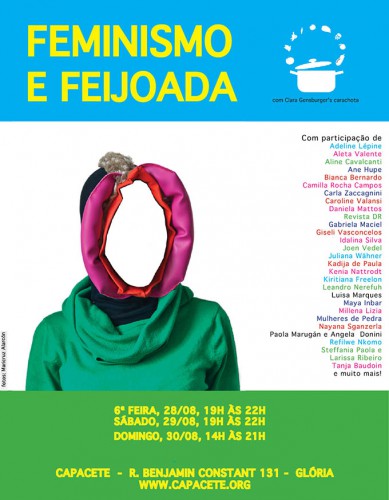 Feijoada: Celebration and evocation of feminism. 08/30 from 2pm to 9pm
Meetings and cooking sessions also open to those who wish to participate on the 28th and 29th of August, from 7pm to 9pm at CAPACETE, rua Benjamin Constant 131, Gloria – Rio de Janeiro
With participation of the Collective FF (Adeline Lépine, Caroline Valansi, Refilwe Nkomo, Tanja Baudoin), Aleta Valente, Aline Bahia, Ane Hupe, Bianca Bernard, Camilla Rocha Campos, Carla Zaccagnini, Daniela Mattos, Disk Musa Coletiva, Fabiana Faleiros, Gabriela Maciel, Giseli Vasconcelos, Idalina Silva, Joen Vedel, Juliana Wahner, Kadija de Paula, Kenia Nattrodt, Kiritiana Freelon, Leandro Nerefuh, Louise Botkay, Luisa Marques, Maya Inbar, Millena Lizia, Mulheres de Pedra, Nayana Sganzerla, Paola Marugane and Angela Domini , Steffania Paola (Workshop of Digital Self Defense), Thiago Andries and more!
How do we live feminism? How do we eat feminism?
We, Adeline Lépine, Caroline Valansi, Refilwe Nkomo and Tanja Baudoin, would like to learn how feminism exists in Rio de Janeiro today and we also want to learn how to cook a feijoada.
We are calling upon 'the woman in the kitchen', a traditional figure that persists and that we don't want to dismiss. We need to look at her again, perhaps to de-construct or re-construct her anew.  
We will be gathering around the pot where the beans and meat are slowly cooking to share recipes and stories. Everyone can stir or add spice as they wish. We take time – one weekend – and on the last day will collectively consume and digest what has been prepared and produced.
On Sunday afternoon 30th of August from 2pm to 9pm, we will eat the feijoada together with all who want to share this moment in a warm and creative atmosphere. The food will be sold (for a very fair price) and the profits will go to a charity organization supporting women.