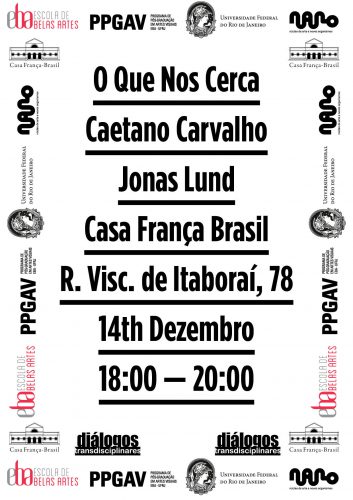 Wednesday the 14 of december
O que nos cerca
by Caetano Carvalho e Jonas Lund
Jonas Lund is a Swedish artist that creates paintings, sculpture, photography, websites and performances that incorporate data from his studies of art world trends and behavior. He earned an MA at Piet Zwart Institute, Rotterdam (2013) and a BFA at Gerrit Rietveld Academy, Amsterdam (2009). He has had solo exhibitions at Whitechapel Art Gallery, London (2016), Steve Turner, Los Angeles (2016, 2015, 2014); Växjö Konsthall Sweden (2016), Boetzelaer|Nispen, Amsterdam (2014); Showroom MAMA, Rotterdam (2013); and has had work included in numerous group exhibitions including at Eyebeam, New York; New Museum, New York, XPO Gallery, Paris; Van Abbemuseum, Eindhoven, Witte De With, Rotterdam, De Hallen, Haarlem and the Moving Museum, Istanbul.
His work has been written about in Artforum, Kunstforum, Metropolis M,
Artslant, Rhizome, Huffington Post, Furtherfield and Wired.
CV
Solo Shows (selection)
2016 Your Logo Here, Steve Turner, LA, US
2016 Versus, Växjö Konsthall, Växjö, SE
2016 Fair Warning, Whitechapel Art Gallery, London
2016 MiArt with Steve Turner LA, Milano, IT
2015 Legacy of the Void, Boetzelaer|Nispen, Amsterdam, NL
2015 Contemporary Gallery, New Shelter Plan, Copenhagen, DK
2015 Strings Attached, Steve Turner, LA, US
2014 Studio Practice, Boetzelaer|Nispen, Amsterdam, NL
2014 Flip City, Steve Turner Contemporary, Los Angeles, US
2013 The Fear Of Missing Out, Showroom Mama, Rotterdam, NL
2013 Curate This, Galerie van Gelder, Amsterdam, NL
2012 Public Access Me, First Look, New Museum, New York
2012 1,164,041 Or How I Failed In Getting The Guinness World Book Of
Record Of Most Comments On A Facebook Post, W139, Amsterdam, NL