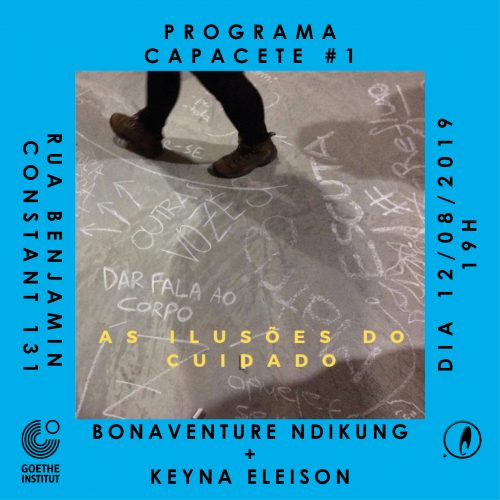 "But You Can't Fool All The People All The Time
On The Delusions Of Care"
Lecture Performance by Bonaventure Soh Bejeng Ndikung
Remember that saying: Well isn't necessarily well done? In his performance presentation, Bonaventure will touch upon rationalities of care and philanthropy in contemporary discourse, spanning issues such as birth control, black feminism, and the "curatorial complex" as knowledge production. Driven by a desire to become indigestible in contemporary economics, Bonaventure outlines the possibilities of creating temporarily autonomous zones of curatorial quilombolism where "care is not just a picture of language, not just a metaphor or analogy, but a task. "
Bonaventure is a curator, art critic and biotechnologist. He was born in 1977 in Yaoundé, Cameroon and has lived in Berlin since 1997. In 2009 he founded Savvy Contemporary, a contemporary art space in Berlin and served as curator in various international contexts, from Documenta in Kassel to the Biennale in Venice, passing through the Dakar Biennial. He is currently artistic director of the Rencontre de la Photographie – Bamako Biennale 2019, as well as artistic director of Sonsbeek 2020. Bonaventure is also recipient of the first OCAD University International Curatorial Residency fellowship. He is in Brazil, researching about Abdias Nascimento at IPEAFRO.
After the performance, he and Keyna Eleison will chat, along with the audience. Keyna is a curator and master in Art History. She develops exhibitions and means of structuring artwork and artists.
The event will inaugurate the beginning of the Capacete Program 2019 // 2020 which, under the artistic direction of Camilla Rocha Campos, has as its main motivations to develop pedagogies, constructions and experiences from a look that revises and suspects the ideas already established in the world. Capacete is an art and research space open to the public that promotes contemporary thinking through research residencies, workshops, seminars and weekly lectures.
*** The event will be in English with translation of the lecture performance to Portuguese through a projection. The conversation will take place in English with collective care for spontaneous translations in small groups.