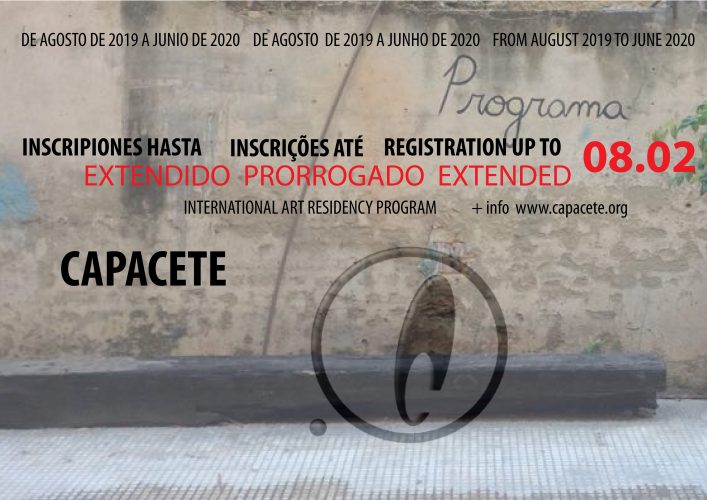 This open call invites new proposals for the selection of 6 participants for the CAPACETE programme 2019 //2020
lasting for 10 months, from August 2019 to June 2020
The CAPACETE 2019 // 2020 programme is guided by the theme of Reconstructing the Senses to find collective ways of inhabiting a world where veiled and explicit violence and expropriating dynamics dominate. The programme looks towards an ecology of knowledges and cosmologies, with guests that articulate this vision. The activities concentrate on the self-management of the CAPACETE space and on collectivity as a mode of research and knowledge. 
For more information, see the documents below:
Deadline for application and submission of material: February 8th 2019.
Registration is free.
xxxxxxxxxxxxxxxxxxxxxxxxxxxxxxxxxxx
La presente convocatoria abre las inscripciones para la selección de 6 participantes para el programa CAPACETE 2019 // 2020 
con una duración de 10 meses, de agosto 2019 a junio de 2020.
El programa CAPACETE 2019 // 2020 está guiado por el tema de Reconstruir los sentidos para encontrar formas colectivas de habitar en un mundo donde predominan la violencia velada y explícita y la dinámica de expropiación. El programa mira hacia una ecología de conocimientos y cosmologías, con invitados que articulan esta visión. Las actividades se centran en la autogestión del espacio de CAPACETE y en la colectividad como modo de investigación y conocimiento.
Para obtener más información, consulte los documentos abajo: 
Fecha límite de inscripción y envío del material: 8 de Febrero de 2019.
La inscripción es gratuita.